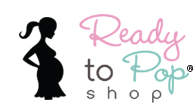 About The Ready to Pop Shop
The Ready to Pop Shop was started in January 2012 after Jen, writer of the blog Scissors & Spatulas: and everything in between started receiving inquiries about where to purchase the popcorn favor boxes she made for a friend's shower. The amount of inquiries was so large she decided to start taking orders for custom Ready to Pop favor boxes. The custom orders became so abundant that it was difficult to keep up! In just six months after opening, The Ready to Pop Shop sold over 9,000 custom favor boxes! This led to the creation of our set designs which match common baby shower themes and colors. Custom boxes are still also available.
Are you throwing a baby shower? We would love to help celebrate mom-to-be by making favors to thank guests for "popping by!" 
The Ready to Pop Shop strives to make our customers happy. If you have questions or concerns regarding your order or you are not happy with the product you received, please send an email to readytopopstore@gmail.com.